The Art League I teach and exhibit at just had its 10th anniversary. I was asked to be there as part of the celebration by doing a watercolor demonstration. I agreed to do this and then thought, ok, what am I going to paint.

The roses in my garden have had there best year since I planted them. I am not a expert gardener, but I love flowers, especially roses. I had cut a few and brought them into my kitchen. I purchased these roses, not only because they look good, but because they smell wonderful. After putting them into a small vase and on the kitchen table, I went on to other chores.

I had just finished lunch and couldn't help admiring them. They looked just right...two just buds and one rose had opened fully. I ran upstairs and got my tracing pad and pencil. I sat down and drew them just as they were. Oh my, I had my demo. Transferring my drawing to watercolor paper, I began my painting. It was hard to stop so I could save the rest to use for my demo.

I did some more painting at the demo, and talked to so many people. We talked about watercolor and I had a copy of my new book there too. There were three other artists doing demos in other media at the same time, and needless to say, time went very fast. I was able to finish it at home and I was pleased at the outcome.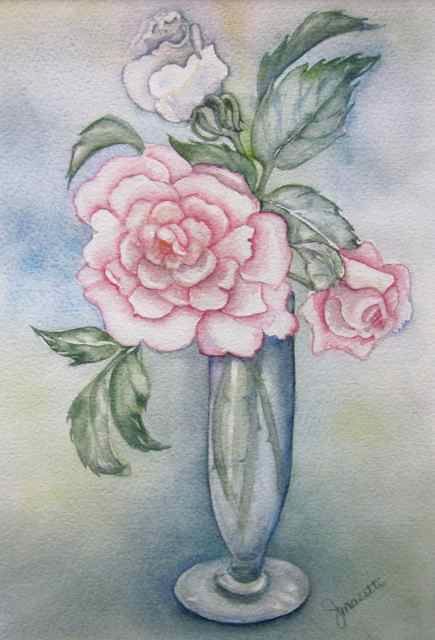 I had some small samples of watercolor paper and painted a single rose bud too.