We had a Monday night "Sampler of Classes Night". The purpose of it was to advertise classes offered at the Mispillion Art League for the rest of this year. There was a potter who demonstrated working on a potter's wheel and formed a few clay bowls. Then a basket weaver who will teach how to create a Nantucket basket. She brought in several beautiful baskets she had made, and gave a whimsical talk about them. There was a painter who will give a classes in acrylics.
Then there was me.
Since this was the first time we did this, all the talks were impromptu. I brought a painting that I started at home and worked on it there. Then talked about how we would do similar paintings in class. We would do a background first and then work the flowers into the background. So often we paint perfect flowers and then have no idea what to do with the background. We are fearful of ruining the painting by not putting a good background and of our work of those perfect flowers done in vain. We talked about watercolor paints, different kinds of paper, and the excitement of putting them all together.
I guess I did a good job because two more people signed up for my class. This is the painting I worked on there, all finished.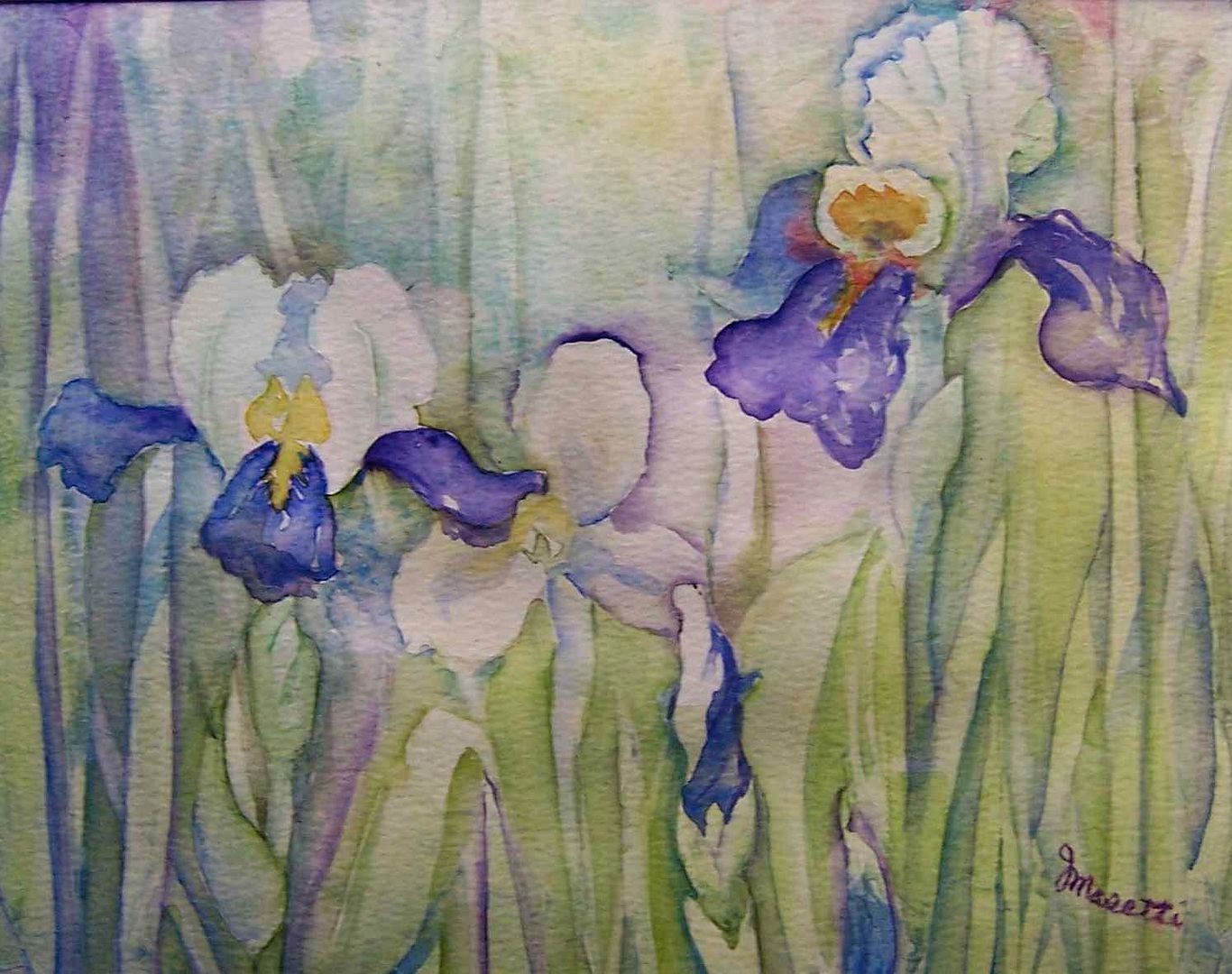 Saturday came fast and we had five students eager to watercolor with my method of painting the background first. I have to say it was a fun class to teach, because everyone was enthusiastic. The beauty of art is that everyone interprets it in their own way and this method was perfect way to encourage that creativity. Half the fun was playing with colors, paint and textures to form a wonderful backgrounds that suggested places for our flowers. Each painting was different, but they all demonstrated how versatile watercolor can be. It was just fabulous watching the excitement of choosing flowers and putting them in the various designs. Everyone went home with a completed painting that they were happy with. Three students went home and started another painting and one entered two paintings based on my class in the Summer Show.

I didn't have time to finish the painting I started as a demo because I worked with each student one-on-one. If the class had been larger, I might not have been able to do that, but with this group it worked just fine. I did finish my demo painting later and here it is. I was very happy with how it came!