Moving right along...
The frames I ordered came via FedEx today, but they were damaged in transit. They are sending replacements, so I will have to wait for them to come.
My latest paintings are framed and ready to be displayed.
The Rhododendron went in the living room over the mantle.
My dining room was bigger than I thought and I hung three paintings on the wall you see when you enter the room. They included the Stargazer Lilies, a landscape, and the Calla Lilies. I think they all go well together.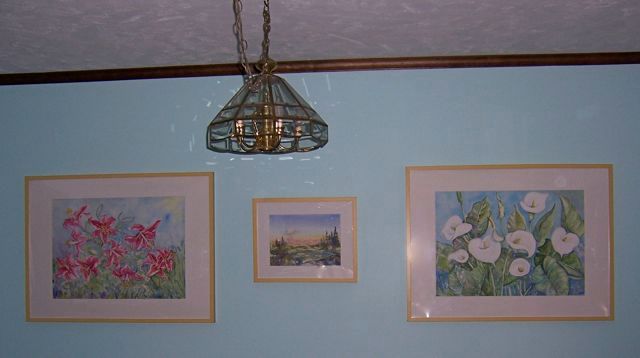 Next I had a large painting in the kitchen eating area and thought it would look great with smaller ones on each side. I had one that went with the large one, but needed another. So I thought this was a good excuse to paint one. Inspired by some of my photos and the coloring of the other two paintings, I painted this.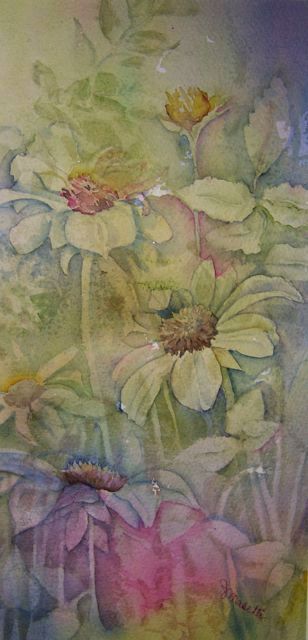 This is the trio on the kitchen wall.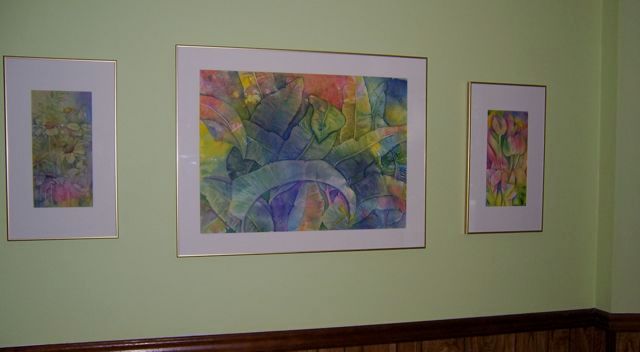 I am feeling very good about being able to display my art instead of storing them in bins.
I spent a little more than a week removing 1980"s wall paper, and priming and painting my dining room. It's a lighter shade of aqua-blue and it look sensational with the dark wood molding. I hope to hang some of my new paintings there. It's so amazing to have large enough rooms to display my art.